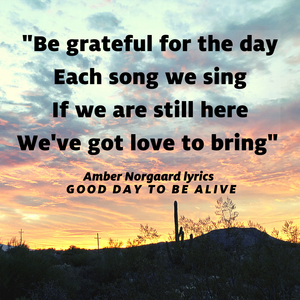 Years ago when I moved to Tucson, I walked my dogs at sunrise. Some mornings, I'd cross paths with an elderly gentleman wearing a Korea Veteran cap, a cane in one hand and his dog's leash in the other. One morning, I asked him how he was doing. He replied, "I'm still walking', the birds are singing' and those clouds are clearin'. Ain't it a good day to be alive?"  
That one interaction shifted my perspective - quieting my woes and planting seeds for what would become a studio recording over a decade later.  
I went home and began writing "Good Day to Be Alive."  
The unfinished lyrics, melody and chords lay dormant in the archives of my journal and mind until 2020 when my band and I began recording "Roots Run Deep". I knew this album would be the perfect home for the song. I finished it, and we recorded it.  
Such a small conversation left a deep imprint on my being, and became part of the "roots" that shape me.  
Thank you to my band and musical co-inspirers – Doug Floyd (electric guitar), Jay Trapp (bass) Ralph Gilmore (drums) and Seth Murzyn (violin) – for rockin' the tune, and to Steven Lee Tracy at Saint Cecilia Studios for his stellar production and engineering work. 
Here's the studio recording:

And here's our debut live performance of it:

May gratitude fertilize our soil and love shift our ground, allowing our roots to grow deeper and more interconnected.